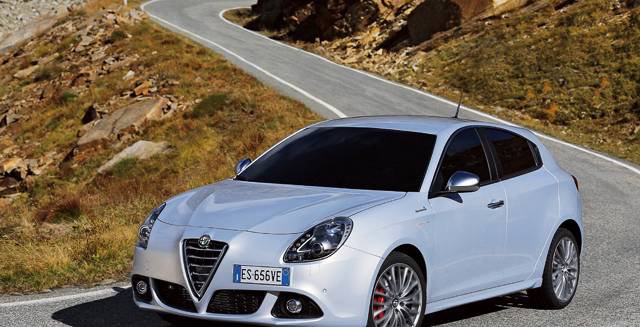 One of the best-looking hatchbacks, the Alfa Romeo Giulietta looks unlike any other car in its class. Now it gets a mid-life facelift and some new technology to boot. Matt Kimberley takes one for a spin
Competition is rather stiff on the Giulietta's patch. There are a lot of excellent options out there for buyers 
to get to grips with, so standing out is rarely easy. But you can hardly say the Giulietta looks like anything else in its class, with its instantly recognisable 
face and sharp exterior design.
The colour options are fantastic, for a start. Strong reds and blues suit the passionately penned lines to a tee, and immediately the car feels a little bit younger and more interesting than many of its contemporaries .
The only qualm is the poor visibility from the driver's seat towards the rear corners. Parking sensors are a must if you're nervous about reversing.
This is the updated version of a car that strives as much as ever to be different to those cars it calls its rivals.
SPECS & RATINGS
Model Giulietta
Engine 1.4-litre four-cyl turbo
Transmission Six-speed auto, FWD
Max power 170bhp @ 5,500rpm
Max torque 250Nm @ 2,500rpm
Top speed 218kph
0-100kph 7.7sec
Price TBC
Plus MultiAir engine is great
Minus Could use more kit and
 further cabin improvements
Everything from the offset front number plate to the stunning two-colour contrast stitching on the optional leather seats is 
as far removed from its sober competition as a six-tier luxury wedding cake is 
from a value-brand mince pie.
There are a bunch of revisions for this model that mainly refine the experience and update a few of the technologies.
Key among the new systems is the 6.5in Uconnect infotainment interface, developed with Harman, which combines a really fresh set of graphics and the latest connectivity options to create a stylish and functional centrepiece for the console. 
Connecting a Bluetooth device is easy enough, and there are some handy upgrade options for the stereo. Alfa owners tend to be as passionate about their music as they are about their cars.
The familiar 'DNA' drive mode selector is still present and makes a vast difference to the way the car drives between modes. Arguably Dynamic is the one to select most of the time, but Natural and All-Weather have their places where fuel efficiency and grip are most important.
As an Italian car it has some quirks that you wouldn't find anywhere else, like front seat belts routed right over the seat back angle adjusters. Bizarre. The Giulietta's USB and auxiliary input ports are also in a daft place; with nowhere around them to store a device and a resulting trail of cables across the cabin.
The range of engines is much the same as before, and the punchy 1.4-litre MultiAir motor transforms the Giulietta into a nimble, eager and hugely enjoyable hatchback with a level of talent that few rivals can get anywhere near. If only it made a sweeter noise… Specify the top-spec leather seats with the contrasting stitching and you'll get good lumbar support and great lateral bolstering. 
They add a pinch of Italian zest to 
a class of car that's all too often left languishing on the boring side of sensible.
Legroom in the back isn't best in class, but it's ample for most adults in the outer rear seats, where you'll also find Isofix child seat mounts.
The thing about the Giulietta is that it's 
a much more interesting car than its more straight-laced competition. Its quirks are generally things you can simply work around without any fuss, and buying it is ultimately a decision made by the heart. That means that, unlike any of its competitors, the Giulietta is a car you 
can truly love. 

- Source:
http://wheels.ae/drives/first-drives/alfa-romeo-giulietta-gets-a-facelift-1.1257063?#sthash.JA1vdwzm.dpuf